Bourg-Saint-Andéol
A bio and rural bistronomy in an environmental setting of quality with seasonal, bio and local products. Food and wines harmony between a chef and a winemaker cook !
Over 6 years have been necessary to carry out the project of catering at the Domaine Notre-Dame de Cousignac.

It all started with the competition for the best winemaker cook that Raphaël won at the Exhibition SIRHA in 2013.

In 2014, the winery made a partnership with the Hotel School Marie Rivier to teach to pupils how to make wine. From then on several vintages have been created... which helped to strenghten ties with chefs and catering.

In 2017, Raphaël obtained an hygiene qualification for catering and the licence in 2018. An "improved table d'hôtes" has been experimented during the summer 2018 and young students of vocational school came to help.

In 2019, the project takes shape. The team works out to organize a network of bio producers through "La Ruche qui dit Oui" which can supply produces to the restaurant and offers a range of quality. The aim is a bio and rural bistronomy with a bio certification level 3 (95% of the products for the restaurant have to be bio-certified). A maximum of products come from local agriculture.
Specials
Cuisine traditionnelle française
Organic cuisine
offers dishes "homemade"
Capacity
2 rooms
1 air-conditionned room
40 maximum seats
40 seats on terrace
Address
Domaine Notre Dame de Cousignac
07700 Bourg-Saint-Andéol
GPS coordinates
DD (decimal graduation)
latitude : 44.407223
longitude : 4.639106
Open
From 27/06 to 31/08/2020
Opening hours daily between 7.30 pm and 10 pm.
Prices
A la carte ou en menu.
Menu enfant.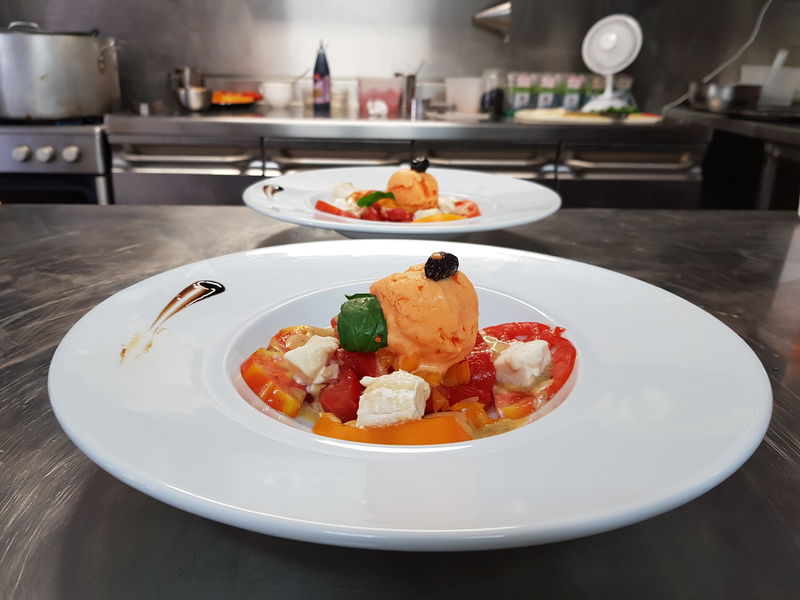 Booking