L'essentiel
Gras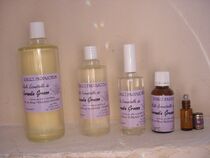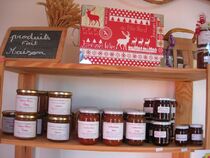 Want to buy natural products, take a souvenir back with you, offer a gift? Come to l'Essentiel farm shop. Hybrid lavender essence, cordials, soaps, homemade jams and essence diffusers.
My name is Celine and my husband is a farmer in the vineyard and lavender. I wanted to develop the exploitation of direct sales to promote our products. I offer quality products from our operations or gathering. Jams are made ??with our fruit without preservatives or coloring. The scents vary our production and the season. Syrups are derived from plants: thyme, lavender, mint, elderflower. You can drink it with water, but they can also be used in cooking. I will explain this in our exchange during the season and I will make them eat.
I make soap by saponification or cold ingredients are vegetable oil, clay and essential oil of lavender. We are producers of essential oil of lavender, I propose a different form our oil and j explains with a photo holder harvest, distillation ... and properties.
I offer boxes, gift ideas to bring back a souvenir "made in Ardeche."
Discover my "essential" and it is with pleasure that I welcome you.
Accommodation available on site. I have two cottages for 4 people labelissés "Gite de France 3 ears."
Address
3090 Les Hellys
Route de st remeze
07700 Gras
GPS coordinates
DD (decimal graduation)
latitude : 44.420632
longitude : 4.521775
Open
From 01/04 to 31/05 between 10 am and 5 pm.
Closed Monday and Sunday.

From 01/06 to 31/08 between 10 am and 6 pm.
Closed on Monday.

From 01/09 to 30/09 between 10 am and 6 pm.
Closed Monday and Sunday.
Payment methods
Bank/credit card, Cheque, Cash