Saint-Marcel-d'Ardèche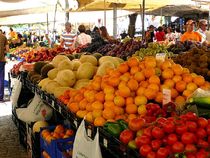 Situé dans la vallée du Rhône et proche des Gorges de l'Ardèche, aux portes de la Provence, ce marché annuel coloré propose des produits du pays et de nombreux stands variés. De juin à septembre, le marché s'agrandit par de l'artisanat, des producteurs...
Address
Place du village
07700 Saint-Marcel-d'Ardèche
GPS coordinates
DD (decimal graduation)
latitude : 44.327683
longitude : 4.617606
Open
Throughout the year : every Thursday from 8 AM to 12.30 PM.