Rhône to the Ardèche Gorges Tourist Information
Rhône to the Ardèche Gorges Tourist Information
Rhône to the Ardèche Gorges Tourist Information
Viviers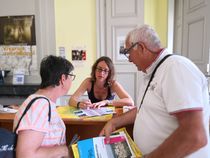 Our team is here to help you plan your stay and give you the best advice to explore the exciting range of attractions in our area. Tour operator, guided tours for groups, gift shop and tickets.
Notre service réceptif peut organiser votre séjour clés en main. Nous proposons des visites commentées de la ville et autres prestations en plusieurs langues, toute l'année sur rendez-vous pour les groupes, l'été pour les individuels et au mois de septembre pour les Journées du Patrimoine. Vous trouverez en vente dans nos locaux les produits du terroir, ouvrages sur le patrimoine ... ainsi que des billets pour certains spectacles organisés sur la commune de Viviers et divers sites touristiques.
Address
2 Avenue Mendès France
Hôtel de ville
07220 Viviers
GPS coordinates
DD (decimal graduation)
latitude : 44.480409
longitude : 4.691441
Open
From 01/10/2020 to 31/03/2021.
Closed Saturday and Sunday.
Closed exceptionally on 28/12/2020, 29/12/2020, 30/12/2020, 31/12/2020, January 1st and December 25th.
Payment methods
Cheque, Cash